Schöner Plan von Dan, der einen Hundeknochen so geschickt kaschiert, dass die ca. 2,40 x 3,30 große Anlage auf den ersten Blick wie ein Punkt-zu-Punkt-Betrieb anmutet. Dan hat sich von Malcolm Furlow inspirieren lassen und dessen Plan von H0-Schmalspur auf H0 übertragen; Dan schwört für seine Planung auf die CAD Software 3rd PlanIt:
I based my track plan on Malcolm Furlow's 8 x 10 San Juan Central.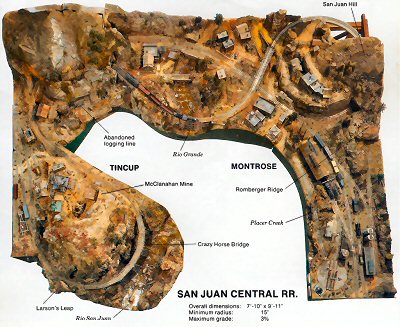 However I made the following changes:
Flipped the track plan right-to-left because that fit the room I was building in better.
Changed the plan to HO standard gauge with 18" minimum radius curves.
Specified #5 turnouts.
Set track "zero" height at 53-1/2" above the floor.
Because HO needs more "shoulder room" than HOn3, 18" radius turns and #5's are bigger than the 16-18" turns and #4's of the original plan, and because the room can fit it; I increased the size of the layout one foot on the long axis so my plan is 8' x 11' and is fit into a 10' x 14' room.
As far as the schematic layout of the tracks, curve for curve, tunnel for tunnel, bridge for bridge, the only change I made was to completely redesign the tracks at Montrose, turning it into a seaport (Tiburbon on my layout) and add a wye behind Tincup leading off through a bookcase to staging tracks in the corner.
I used the 3rd PlanIt CAD system (http://www.trackplanning.com/3pi.htm) to draw my track plan. Once you are up the learning curve, CAD systems offer many benefits. I've had work related experience with CAD systems and while 3rd PlanIt is not flawless it is certainly good enough to have been a great help in planning the layout.
3rd PlanIt has fairly deep terrain generating and editing capabilities but at that point in the process I made the decision that the time-to-benefit ratio was not good enough for me to go deeply into that on my plan. I used a modeling clay model of the layout to work out the 3D aspects of the scenery (I'll write about that in a future post). However, I did use the CAD to make the templates for the model-of-the-model.